Coupon Code SENDSINSTYLE Expires 6/12/2012
You can save 50% off greeting cards when you do your gift shopping at Zazzle by using this online discount code.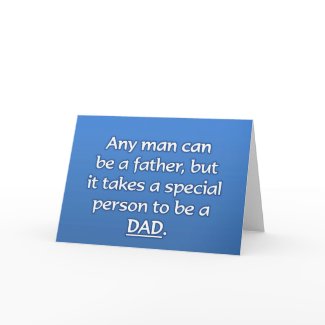 Dad Greeting Card
by
inspiredbygenius
Design your own card
at Zazzle
Save on these custom designed gifts and products!
Click any image to see related products.
Coupon Terms and Conditions
50% of the invitation, greeting card, photo card and/or postcard net sale price will be deducted when one or more qualifying invitations, greeting cards, photo cards and/or postcards are purchased and the coupon code DADGREETINGS is applied at checkout. The net sale price is the price of the product (excluding shipping and taxes). Offer is valid through June 12, 2:59pm PT. This offer does not apply to past purchases and may not be combined with any other Zazzle promotional or volume discount offers. If a volume discount applies to your order, you will receive either the discount set forth in this offer or the standard volume discount, whichever is greater. Offer valid on Zazzle.com only.